"The only way to do great work is to love what you do."
- Steve Jobs
We help you get the skills (& confidence) to find and do what you love.
Start here
Erin is a true specialist in building momentum to translate small steps into big action…
Erin knows what it takes to bring an idea to life. She created an accessible, inviting way to teach the hard business skills people need …The timing is ripe for a program like this."
– FORBES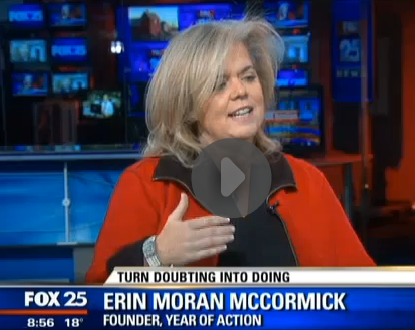 Erin Moran McCormick, Founder & Author, Year of Action
Partner, International Entrepreneurship Center
Former Director of Curriculum Innovation & Technology at Babson College  - #1 in the world for entrepreneurship education
7 out of 10
people are NOT happy at work.
They're not engaged in what they do and they bring down others around them.
70% of people just punching a clock and living for the weekend???
We think there's a better way.

Come join us!
Check out our programs:
Entrepreneurs & Intrapreneurs
For those who want to start their own business or want to bring an entrepreneurial mindset to their company. This program is the new MBA where the focus is: MINDSET for success, BOOST your skills and confidence and ACTION steps for results.  Tell me more…
Women only
There is a special dynamic that happens with women-only programs. Our Girlfriend MBA program takes the intimidation out of business education – and teaches the tough skills in plain language – that feels like you're having coffee with girlfriends. The focus is on confidence, practical skills and results.  Tell me more…
High School & College Students
Not sure what you want to do? Our innovative programs teach you how to develop an entrepreneurial mindset for any career path. We partner with global companies and have you work on real projects to get a new perspective on possibilities.  Tell me more…
Some people just talk about dreams
Some sit in class and listen to dreams
We help you take action & make dreams happen
Enough talk. It's time to act.  Year of Action!
Get a free audit of where you are and how to start taking action today.
I want to do work I love