Feedback from the new Girlfriend MBA from Year of Action 
It really works! 
I am experiencing so many of the fears and challenges highlighted in the program – especially the "reasons why you don't do things". I decided to put things into action and  made a few phone calls that I have been putting off. 
IT REALLY WORKS!
Having the support and encouragement of other women is CRUCIAL and helps keep the momentum going when you are feeling stuck. Thank you for the support." –
Kathleen F., Founder, Insurance Agency
a no excuses, take responsibility, this is your life so do something about it" approach.
Very very helpful. Not in your face, just a gentle but firm nudge. - Linda S., Historian & Entrepreneur, SavingHistory.org
Honestly, it's already lit a HUGE fire under me.
I have been blogging every day this week and setting goals and doing them. The idea of taking 15 minutes here and there to get things done is very easy to adopt…All in all, a SUPER productive week. I feel so much better about my quest." – Jake L. Financial Services & Actress/Producer
You helped me jump off a waterfall!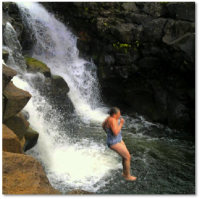 I just got back from a week on Kauai and my friend took me to a waterfall from which people jump all the time.  It took me an hour to work up the nerve to do it, but I did!  Because I thought, "What would Erin do?  She would jump!" So I jumped.  Hooray!  Thank you for inspiring me to not let fear stop me." – Sue S., Massage Therapist