Product Description
CEO Meet & Master – The Future of Leadership in an Impact Economy
For experienced leaders who see a C-Suite-type position within sight
MEET seasoned CEOs and global leaders and get practical tips to MASTER the skills to get to the next level in your career
Fees include: Thursday night Welcome Cocktails (guests welcome), Full conference on Friday, choice of Breakout sessions with expert, all materials, lunch, refreshments.
Optional one-on-one sessions with experts are available on Saturday. Appointments are required. First-come, first serve. Additional fees apply. Click here to book an appointment.
Suggested activities in Miami on Saturday. (Hotel/travel not included.)
SAVE $180 – Early Bird Registration if register by Dec 31, 2019.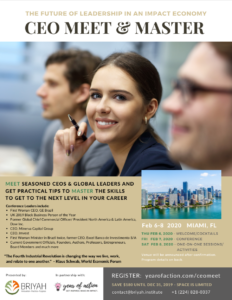 Refund Policy
We have a limited number of spots available in the program and are unable to give refunds. If you are unable to attend the program, you may transfer your spot to someone else or you may reserve a spot in a future program.
Contact: contact@briyah.institute for more information.
Got Questions? 
Click on the Chat Window in the lower right corner, or email us at: contact@briyah.institute