Knee-jerk reactions are things you do without even thinking. It is just what comes automatically.
Knock knock.
(I bet you automatically thought: Who's There?)
Yet, when you take a step back and actually stop and think about what you are doing and saying, you may be pleasantly surprised.
I learned a new word yesterday, Rejoice. Well, yes, I had heard it before but I had never really thought about it. It was just something sung in Christmas Carols. It's not like anyone actually says Rejoice and Hallelujah – at least I don't. But I learned yesterday that Rejoice means, Choosing Joy. Hmmm.
[As a quick public service message, if you are a Catholic and haven't been to church in a while and are planning to go to Christmas Mass - be prepared. Many of the prayers that you have repeated over the past 40 years or so have changed. There is a cheat sheet and everyone (including priests) have to start fresh and try to break many of the "knee-jerk" responses. A lot of people don't like this - they are used to the old way. I like it though. It makes you stop and THINK about what you're saying. Not just the "knock knock, who's there" kind of church experience.]

Anyway, in stepping back from the knee-jerks, I realized how much we talk (sing!) about joy during the holiday season:
Repeat the Sounding Joy.
O tidings of comfort and joy.
Joy to the world.
A thrill of hope, the weary world rejoices.
Joyful all ye nations rise.
Joyful and Triumphant.

Joy is really all around us. Yet we don't really think about it or choose it.
As we go about the busy holiday weeks, it is easy to get caught up in the madness and the frenzy. Trying to get the cards done, the shopping, the wrapping, the decorating, the crowds at the supermarket, the Mall, the lines, the traffic, the bills, the stress, etc. Trying to just "get through the holidays." It's easy to forget about the joy.
Our knee-jerk reaction is to run around. You can let it get the best of you. To be oblivious to the joy. Or you can decide to choose it.
A dear friend of mine Marlene reminded me of this. She emailed me Friday wanting to try and find a time over the next few weeks to get together. Trying to coordinate calendars this time of year is tough. A knee-jerk reaction would have been to say, "It's so crazy. Let's try and get together after the holidays."
After all, the house was a mess. There were plastic bins with holiday decorations all around making it hard to walk through the kitchen and family room. I was in old jeans and not at all holiday primped. I didn't even have cheese and crackers and I had to drop my daughter off at a party and… In short, not exactly "guest-ready".
But instead of the knee-jerk, I said, "Why don't you stop by on your way home?"
We had a wonderful night. We enjoyed homemade pizza, an undecorated tree and stepping over and around the bows and garland. It was relaxing and joyful.
I also got an update on her boyfriend, Carl, who is a soldier in Afghanistan. He is living in an 18 wheeler flatbed truck. In fact, there are 3 of them living in the truck. They live in a TRUCK! He will NOT be home for Christmas. Rockets and bombs are going off all around them. Their joy is Skype – allowing them to talk to loved ones – (even though it's crazy expensive for Internet access that they pay for out of their own pocket.)
It reminded me of one night, after Marlene and Carl had come for dinner right before he left for Afghanistan, he asked if I would write down the prayer we said before dinner. It is something that I have said since I was little and yet never really stopped to think about what the words meant. But he did.
Bless us O Lord, and these Thy gifts,
which we are about to receive,
From Thy bounty,
Through Christ our Lord, Amen.
Very simple.
He liked that we – including the kids – all say a little something after it too. (For example, please pray for all those who are lonely, or don't have enough to eat, or are having a tough day – especially xx).
If you ever need a reminder of how lucky you are – or how much joy there is in your life – just take a step back from the holiday shopping and tinsel for a moment and look around your life. The things we take for granted.
I bet most of us are not living in a truck with bombs overhead. That we have health and abundance in our lives.
So during the frenzied days ahead, I recommend taking a step back from the knee-jerks in our lives, step over the mess and choose joy.
Or as I always say, "Rejoice and Hallelujah."
Read More
I wouldn't have thought to put this on my Bucket List but I would recommend it: Be in a parade. On a float, if you can. It's a ball.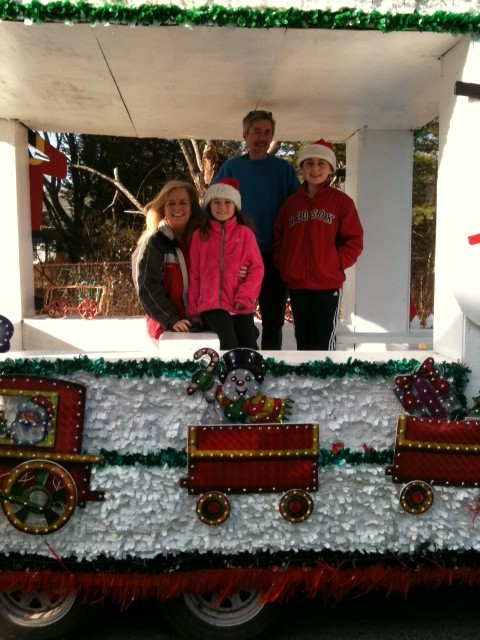 Yesterday was our town Christmas parade. Friends of ours were organizing it and said that if the kids wanted to come by the high school early, they could probably find a float for them to squeeze in on.
Turns out, we had our own float. Just the four of us. On a big gorgeous float with us waving. I was cracking up. We would see people we knew and I got a kick out of watching the recogmition on their faces when they saw us – Hey it's the McCormicks! What?
I loved the kids faces along the parade route. So innocent – just smiling and waving. I laughed the whole time. My kids couldn't figure out why I was laughing so much. Me either really. I was just happy. It was a beautiful day. Everyone was smiling and enjoying the parade. The kids in the parade had amazing, adorable and clever costumes. And the sheer surprise effect of just showing up and being put on a big float.
I heard some kids asking their parents about us and how did we get to ride on the float and the parent said, "They must be very special."
We felt very special. Thanks Brandie!
Life's simple pleasures.
Read More