We help companies create a more
innovative, engaged

and

inclusive

culture.
With lawsuits, gender pay gaps and lack of board seats dominating the news, it is clear that the
old
ways of working,
aren't
working.
Forward-thinking companies know that they need NEW ways to engage and empower women – so that we are ALL more innovative and successful.
We have programs for both women alone (research shows that women-only programs can help jumpstart women's confidence, engagement and success rates) and programs for men and women together.
It's not a "woman's thing" – or a "one and done" thing – it's a new way of working.
And those who "get it", win.
We have onsite workshops, and online programs with offsite Saturday retreats – that limit time away from work. We can customize something to fit your needs and budget.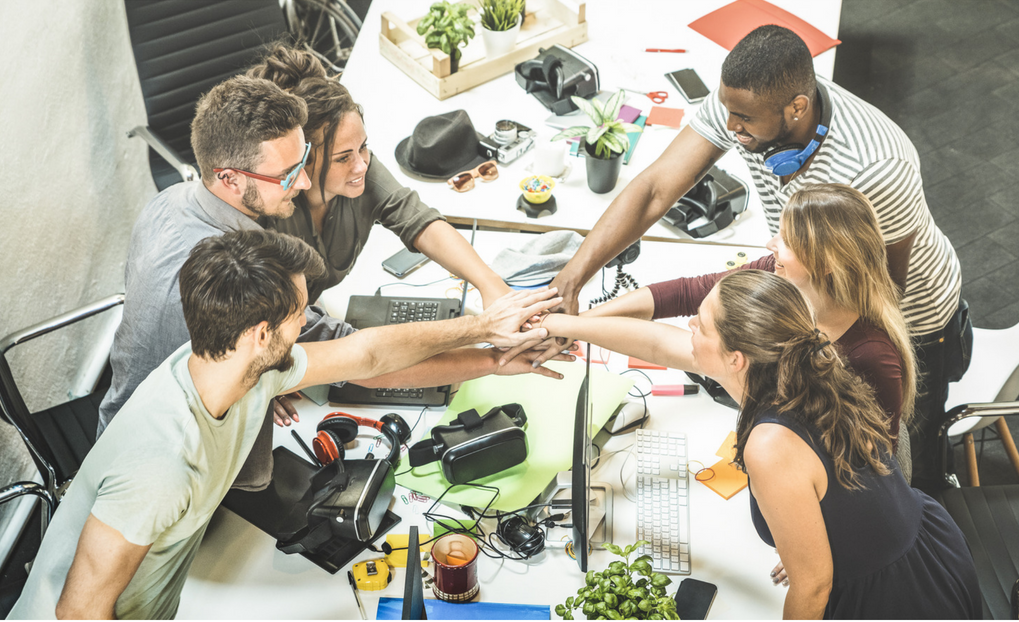 Action-Based
Talk ain't action. ACTION is action. Our programs have specific action steps that put the learning into practice.
Engaging
Engaged employees are more productive – and more likely to stay! We get people engaged, talking to each other and believe it or not, actually enjoying themselves.
High Quality
Tested and proven. We've worked with small groups to Fortune 100 companies – and get consistent 5-star ratings.
Results-Focused
Fun is good, results are even better. We focus on inspiring people to take action and get results, and give them the tools and support to make it happen.
(Xcelerated Action Program) 8-Week Program for Women Managers and Aspiring Leaders
Teaches the hard and soft skills to succeed quickly – with no time away from work
Our eight-week accelerated program boosts women's confidence, strategic focus and key business skills, by using practical action steps in a relaxed environment, to get results quickly and sustain the momentum. Each week you'll have action steps to complete and weekly online group sessions that keep you accountable and moving forward.
Learn how to get clear on what you want and the tools to push past what's holding you back. Learn must-have business basics such as executive presence, communication, financials, time management, negotiations and more.
You can connect from anywhere and all the sessions are recorded in case you miss one. There is a kickoff conference, graduation retreat and 6-month follow-up, all delivered with NO time away from work. Lifetime access to the community and material.  TELL ME MORE…
We can customize a program to meet your needs. Here are some samples:
How to Innovate for Success
The New Playbook to Do Your Best Work and Succeed in a Disruptive Economy
"What got you here, won't get you there." Success today requires new skills and new perspectives. It requires creating a "new playbook". But how do you create a culture of innovation, when we're all so busy trying to get our day-to-day work done? Learn how to develop an innovative mindset for success, identify new opportunities and see things from new perspectives. You'll learn how to creatively solve problems, find new ways to add value and set big goals (and make them happen). Learn how to bring a new idea to life (with limited resources) and "new plays" to get you started.
Includes an "Innovation in Action" Playbook.
Workshop for all levels (90 minute, half-day or full-day options)
Develop an Entrepreneurial Mindset Within an Organization
How to creatively solve problems and get support to bring new ideas to life
Organizations today depend on their employees to see opportunities to innovate. But how do you bring creative ideas to life and get the support you need – without the fear of failure holding you back – or "shiny object syndrome"? This interactive session will teach you how to pitch like a pro, get support for your idea and motivate your audience to take action. You'll learn how to turn complex data into a compelling story. Learn strategies that successful entrepreneurs use – whether you're "pitching" to your team, your boss, your board of directors or giving a presentation in front of thousands. Learn the "do's and don'ts" for success. 
Participants are encouraged to come with real-life business challenges to work on.
Includes an Entrepreneurial Toolset and Action Blueprint to follow.
Workshop for all levels (90 minute, half-day or full-day options)
I have a seat at the table, now what? 
Practical action steps for women to push past fear, feel more confident and do work they love
This workshop focuses on the top things holding women back in business today and what you can do to get past these roadblocks. We inspire you to disrupt your current thinking and give you practical strategies to push yourself out of your comfort zone and take action. You will learn how to get laser-focused on what you want, and the action steps that get results. You will learn how to push past the fears and doubts that can hold you back. You will leave feeling inspired and confident, along with a toolset and action plan to keep the momentum going, long after the session is over. 
Includes an Action Plan Workbook and Toolset
Workshop for women. All levels. (90 minute, half-day or full-day options)
Meetings, 'Manterrupting' & Moving Forward 
Action steps to be more effective, productive and embrace diversity – so we all win
"Diversity of thought" is a competitive advantage in an innovation economy. Yet, instead of seeing progress with more women at the leadership table, we're seeing stories of harassment and gender pay gaps dominate the news. People are walking on eggshells and not sure what to do, what to say and how to best work with each other. Forward-thinking companies want practical action steps to get men and women at ALL levels actively engaged in the solution. These issues won't be solved overnight, but this session focuses on action steps that we can put in place today around meetings, communication and feedback, to help organizations become more productive, innovative, inclusive and successful.
Includes "Meeting Cheat Sheets" and Toolset
Workshop for managers and senior leaders (90 minute, half-day or full-day options)
"The feedback has been remarkably high, and positive,
on your workshop. "inspirational", "interesting", "learned about
co-workers passions". "I'm already using workbook"… etc.
So, THANK YOU for making this event a real success."
Sondra Newman – Senior Director Investor Relations, Repligen
"Erin's engaging style, practical tips and interactive
presentation 
made our event a HUGE success.
People loved her and the energy in the room was amazing.
She'll make you look good!"
Zara Muradali, Partner, KPMG
"WOW!!!
It was an exceptional afternoon…y
our presentation was excellent.
Extremely rich,
structured in a way and with tools
that ensure I'll remember
the content.
We'll be trying to get you back next year.
Thank you!"
Mary Pat Ryan – Global Marketing Executive
Let's see how we can help you: