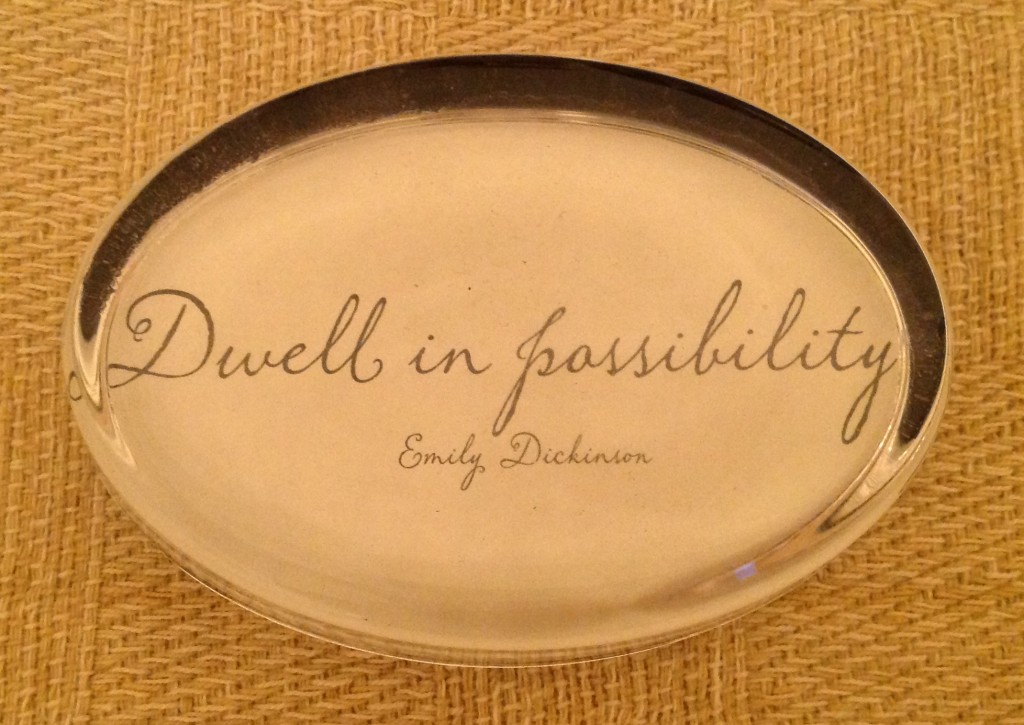 It's the start of a new year. The start of new beginnings; new possibilities.
Sometimes, though, possibility gets lost in the shuffle. Or in my case, lost in my office.  (Stay with me for just a minute – I want to show you a reality of possibility.)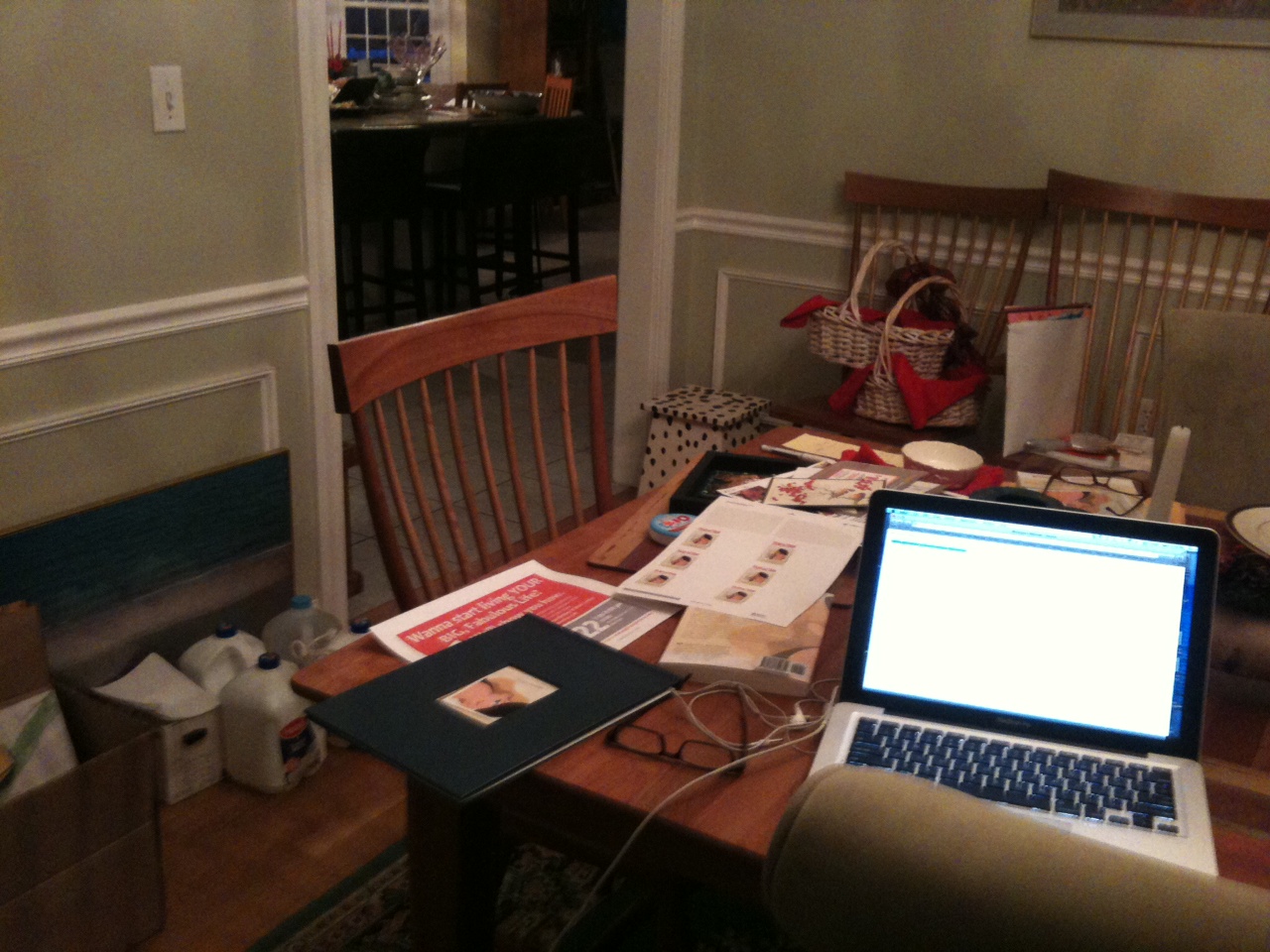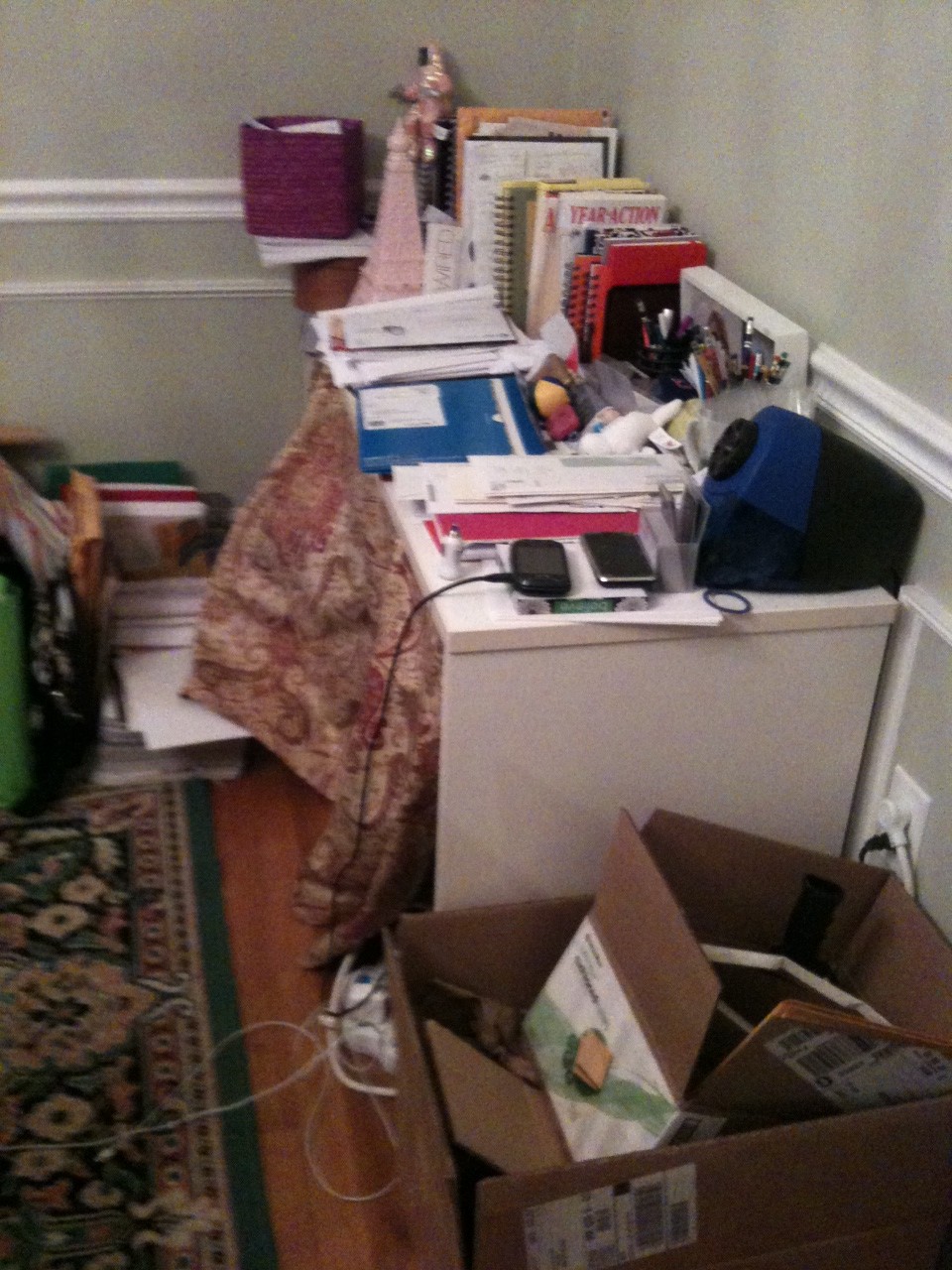 Totally out of control
A year ago when I left my "real job", I converted our dining room into a home office.  But I never really went "all in."  I kept thinking of it as "temporary" space.  I didn't commit.  I had boxes that I never unpacked.  I didn't get my own bookcases or my own files.  Everything was comingled in the family.  Then things started getting faster and crazier.  Throw in the holidays and a book launch – and things can get totally out of control. A big mess.
I hadn't really thought about it though.  I was just going along – digging through the rubble – and slowly feeling overwhelmed and all over the place.  Then something hit me.  It doesn't have to be like this…
Many people who work at home talk about having trouble getting focused and sitting down to work. I have plenty of problems – but that is not one of them. In fact, I'm the opposite. I LOVE the work I am doing and can't get enough. It's often hard for me to stop. I am a pit bull kind of worker – heads down and tenacious.  When I'm "in the zone" I'm "in the zone" and it's hard for me to take a break.
But I did.
I took yesterday off.  I was going to order some things online to organize my office – but I couldn't wait for them to arrive.  I have the momentum now – I need to do it today.  So I got in the car and actually went shopping – on a weekday – in the middle of the day.
I wasn't having any luck.  Or rather, everything I saw cost way more than what I was willing to spend. I also had no idea how I was going to fit anything I found into my little car…
This is ridiculous. What was I thinking? What a waste of time. This is never going to work.
The Top Shelf
Then I saw an older woman, down a little aisle, who was trying to get a big box off the top shelf. I walked by her. But then I turned around and went back and asked if she needed some help.  (I wasn't much taller than she was but I thought that maybe there was something I could do.)  She was thrilled.  As I stretched up to the high shelf and she backed away, I realized that a huge, heavy box was about to fall on my head. I wondered if this whole "cleaning up my office" mission was such a good idea after all.
Somehow, I got it down unscathed – both the box and me. (Well, whaddya know? A year working out at the gym really DOES pay off!)
Then I looked at the picture on the box – it was a bookcase.  I looked at the price.  $15?  That can't be the price.  I asked her if she knew how much it was and she said, "$15."
$15?  Impossible!  How can that be?  I had just spent the last hour and a half driving around looking at bookcases and shelving etc. that were all hundreds and hundreds more than that. Bigger. Bulkier. Uglier. Not "car fittable."
I went back to the top of the scary-high shelf and got 2 of the big boxes down for me.
Then I bought file folders and baskets and a few cute decorative items that I loved and was on my way.  Magically, the bookcase boxes, that I was sure wouldn't fit, somehow fit beautifully in my little car. They weren't that crazy-heavy particle board either.  All the things that I had told myself were impossible – really weren't at all.
Putting it all together
Well, you get what you pay for, right? Sure it's cheap but I'll end up paying in the long run. I expected to suffer through terrible directions and frustrating hours of trying to figure out how to "insert Part A into Part D" – with none of the parts labelled.
But it was surprisingly simple.  Good directions.  Great, actually. All the screws and nails and pieces that were promised, were all there – and labelled.  No scratches, no special tools or no second person needed.  I put it all together myself in about twenty minutes.  The second one went even faster. They were sturdy… level… beautiful.
Then I started in on the piles of rubble. There were a lot of them. They were big. I had no plan for how to organize things. I was feeling discouraged and didn't know how it would ever come together. I didn't know what I was doing or how I was going to make a dent in it all.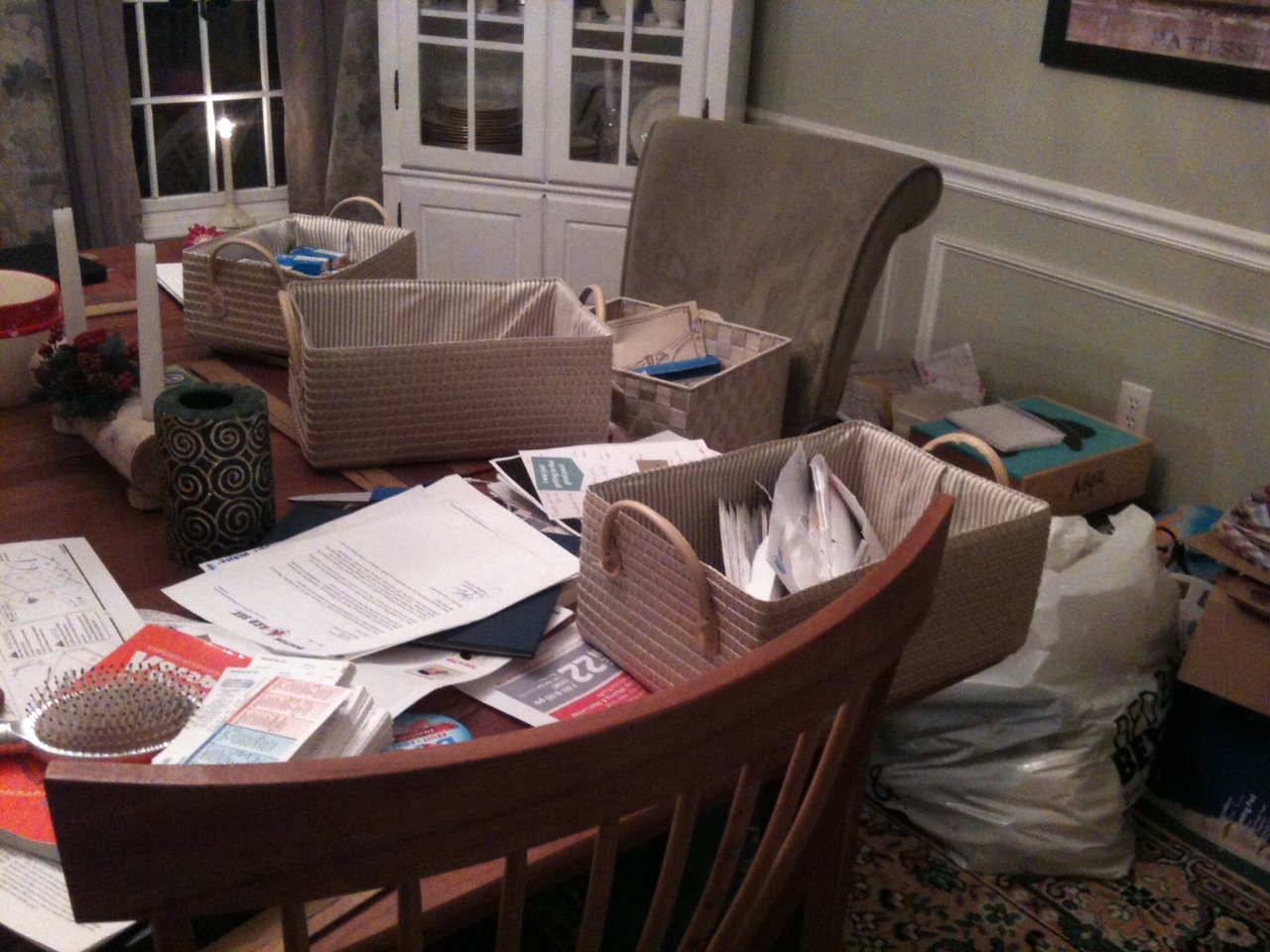 But I kept plowing through – believing in the possibilities.
I didn't realize that living like this was stressful. But now that it's organized, I feel so happy and at peace. I can breathe and enjoy it. I don't feel out of control. (I do have to fight off the urge to kick myself and say, "Why didn't I do this before?" but instead, I am just focusing on being happy that I did it now.)
Take a look: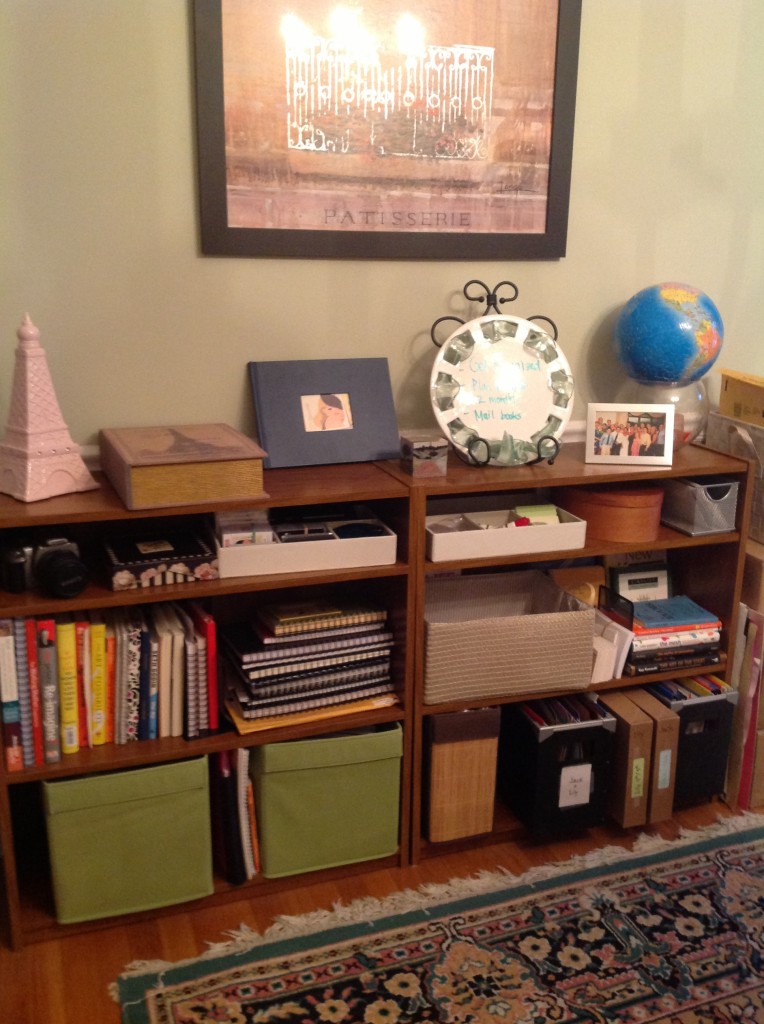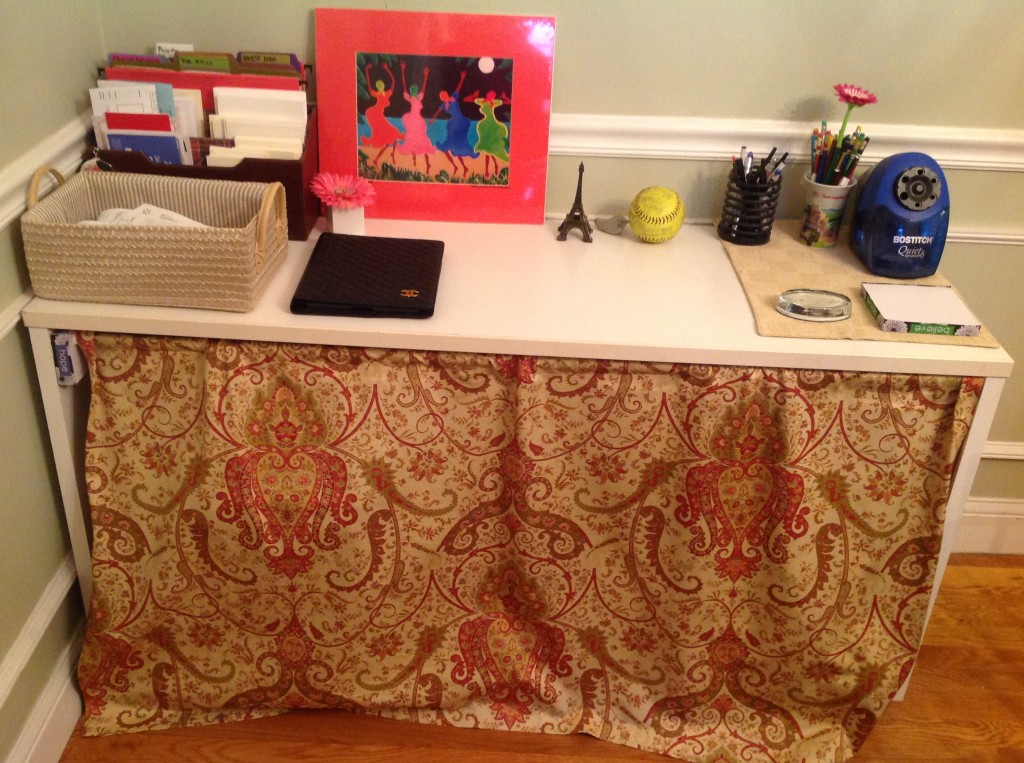 Cleaned up my mail and files and put out some of my favorite things: A painting of Dancing Women in Belize, the Eiffel Tower and a game ball signed by my Disco Pandas.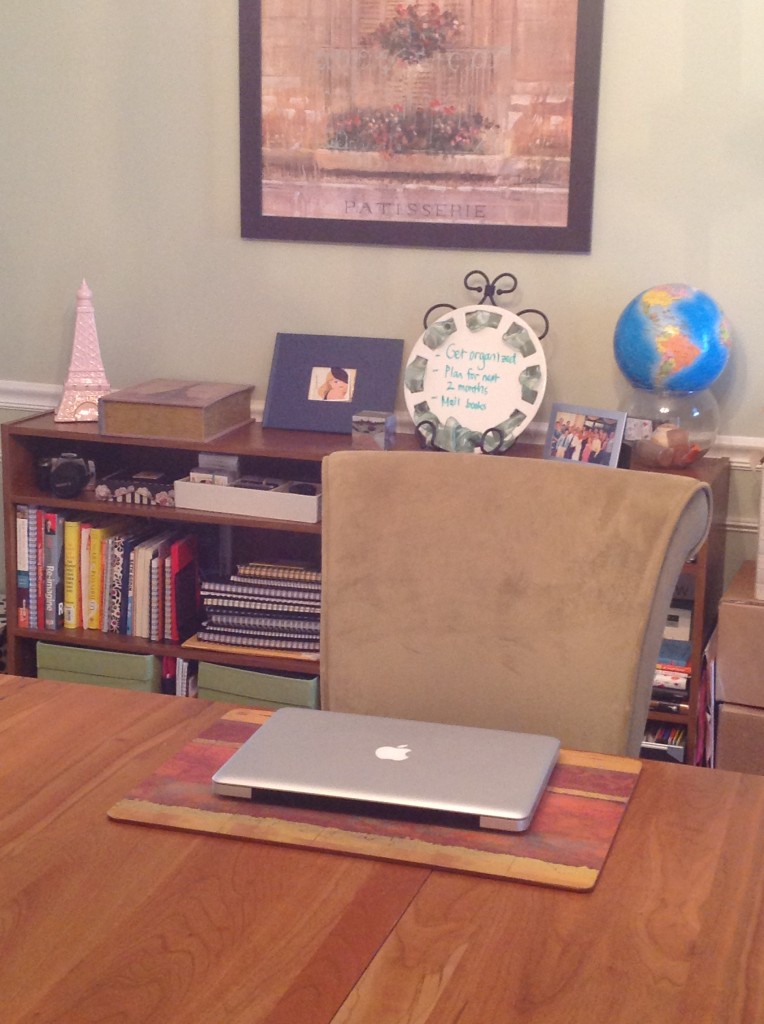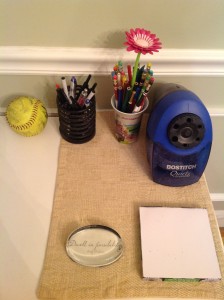 24 hours later what had seemed impossible – was happening right before my eyes. One day! You saw the before pictures. It was a disaster zone! And now look at it. It's not perfect – but it feels fantastic to me.
Isn't it time we stopped telling ourselves that things are impossible? Isn't it time we started following Ms. Dickinson's advice and started dwelling in possibility? It's a much happier (and cleaner!) place to be.
What in your life feels impossible and too big to tackle? I challenge you to jump in and reach for the top shelf. You just might surprise yourself.
It's nice to share