Year of Action
Do you want to STOP WAITING &:

START living your BIG, fabulous life?
START making the money you deserve?
START making the difference you know you can make in the world?
So – let's start.
Welcome to the Year of Action.
It's a mindset.  A way of living.  A community.
It is about incredible women who are learning the simple steps to take action, make a difference and help each other create their big, fabulous lives. (See what they're saying.)
It started with a blog, then a book, and now a business school.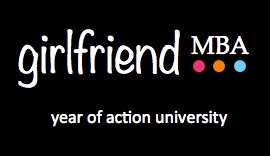 Year of Action University is a new kind of Online Business School for Women.  It combines practical, must-have basics in business, technology and more, with the tools to take action and get results in business and life – all in a supportive, fun environment.
It's your Year of Action for business.
The first program is the Girlfriend MBA which is Part Business School.  Part Executive Coach. Part Geek Squad. Part Girls Weekend. Find out more and special deals for the opening – by getting on the Year of Action Member list.
The Year of Action is a combination of:
1. my years leading Innovation & Technology at a top business school, where the focus was on helping new entrepreneurs;
2. my desire to make things simple - forget the intimidating techie mumbo jumbo – it needs to be more like talking with a girlfriend;
3. my belief in attitude, action & adventure for results - having a positive & giving attitude and a passion for what you're doing, taking action in small steps for BIG changes and having a sense of adventure, sense of humor and a sense of fun;
4. my experience knowing that women helping women is pure magic. I am part of some amazing women's groups and want to bring some of that magic that I've been blessed with, to the world;
5. my understanding that our lives are crazy. We cram so much into every day that we often forget that our lives are happening – while we're not paying attention. And if we don't start paying attention, we'll have missed it.
If you believe this too, click here to get started creating your BIG, Fabulous Life.